SID, Free Sermon and Illustration database search software
The SID software is a freeware application used for searching the Kerux sermon and illustration database compiled by Rev. Holwick . The software allows you to search, bookmark, add, edit, delete, copy, paste and print the many sermons and illustrations contained in the Kerux database. When installed with the kerux mega database some 32,954 illustrations and 22,874 sermons are searchable.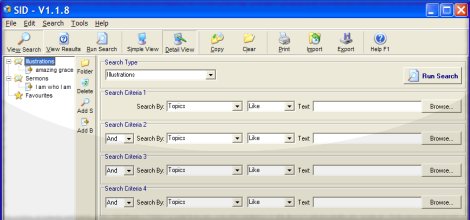 SID simple illustration view image
SID detailed sermon view image
Highlights
Major Release version 4, the applications has been updated for greater compatibility with Microsoft 64 bit environments including Windows 8. SID is fully functional again with all Importing of illustrations and sermons working.
New functionality includes a Illustration and Sermon editor allowing quick settings of bold, italic, underline, font, font size, font color, background color, bullet marks etc.
Version's greater that 2.0.1 allow rich text formatted (RTF) information in the illustration and sermon detail fields. This means that sermon and illustration text can be copied, edited and pasted between SID and any word editing application such as Microsoft Word.
Additionally sermons and illustrations can now be exported with the rich text formatting.
A full list of version changes can be found in the changelog.
Latest Download
This software can be run under 64-bit operating systems.
Historical Downloads
SID V4.0.6 - sid_setup406.zip
SID V4.0.5 - sid_setup405.zip
SID V4.0.4 - sid_setup404.zip
SID V4.0.3 - sid_setup403.zip
SID V4.0.2 - sid_setup402.zip
SID V4.0.1 - sid_setup401.zip
SID V4.0.0 - sid_setup400.zip
SID V3.0.0 - sid_setup300.zip
SID V2.0.1 - sid_setup201.zip
SID V2.0.0 - sid_setup200.zip
SID V1.1.9 - sid_setup119.zip